TL;DR PopFlash is the easiest way to run a 1v1, 2v2, 3v3, 4v4, or 5v5 CS:GO match – just share a link, click a button, and get a fully managed match on high quality servers across the world. PopFlash keeps track of your stats, records a demo, and handles everything else.
Today is the largest update to PopFlash in its 7 year history.
Two years ago, PopFlash went from completely free to paid due to the insane growth during Coronavirus. Through your support, PopFlash has become sustainable.
Today, I'm releasing features that have been long-requested by our Supporters and bringing forth free short matches.
Let's jump right in to the new features...
New Website
It's here: a beautiful new dark-first platform built from the ground up. You can browse the site while waiting for your scrim.
Free Short Matches
PopFlash was entirely free to play for the first five years. Due to Coronavirus, I could no longer afford to offer PopFlash for free to all players. Today I'm happy to re-open PopFlash to all for short matches only (first team to 9 wins).
Operate your own '10 man' community + Simultaneous Scrims
Every PopFlash Supporter plan now comes with a community dashboard. You can track stats across all of your matches, add our custom Discord bot to your server (auto-move teams to voice channels on match start), and more.
By supporting PopFlash, all of your players will get 40+ stats for every match. And you can now host two scrims at the same time (per community boost), without even being in the match.
I've raised the price of Supporter from 4.99/month to 7.99 to be more in line with the value provided. Anyone who has an existing plan will continue to pay 4.99 as long as they don't cancel.
Discord Bot
Each community comes with our custom built Discord bot. You can start your scrims directly in your Discord server and after the knife round, the bot will move both teams into their own voice channels. Anyone can pull up the match stats or grab the spectator IP right there.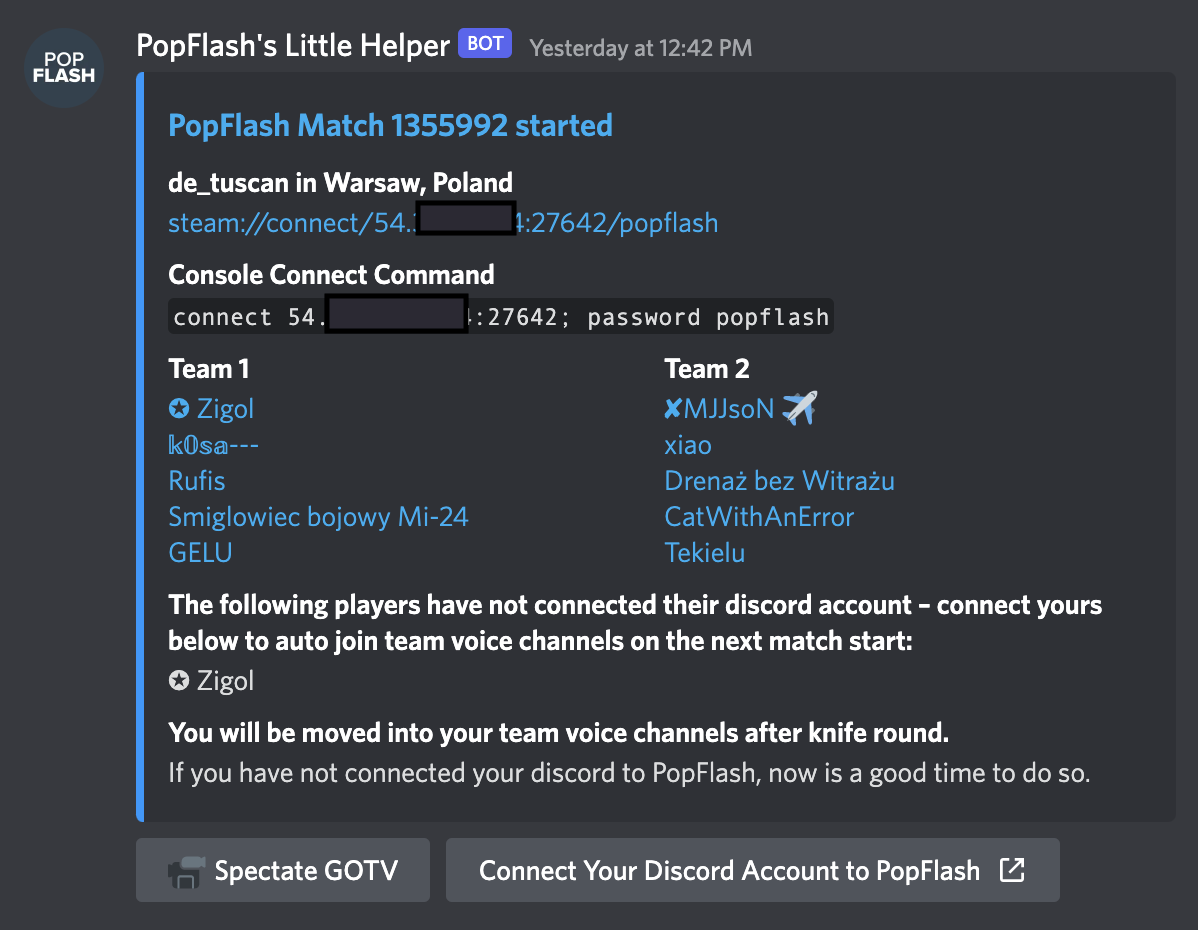 After the match is over, we'll post a screenshot of the match stats and move both teams back into one voice channel.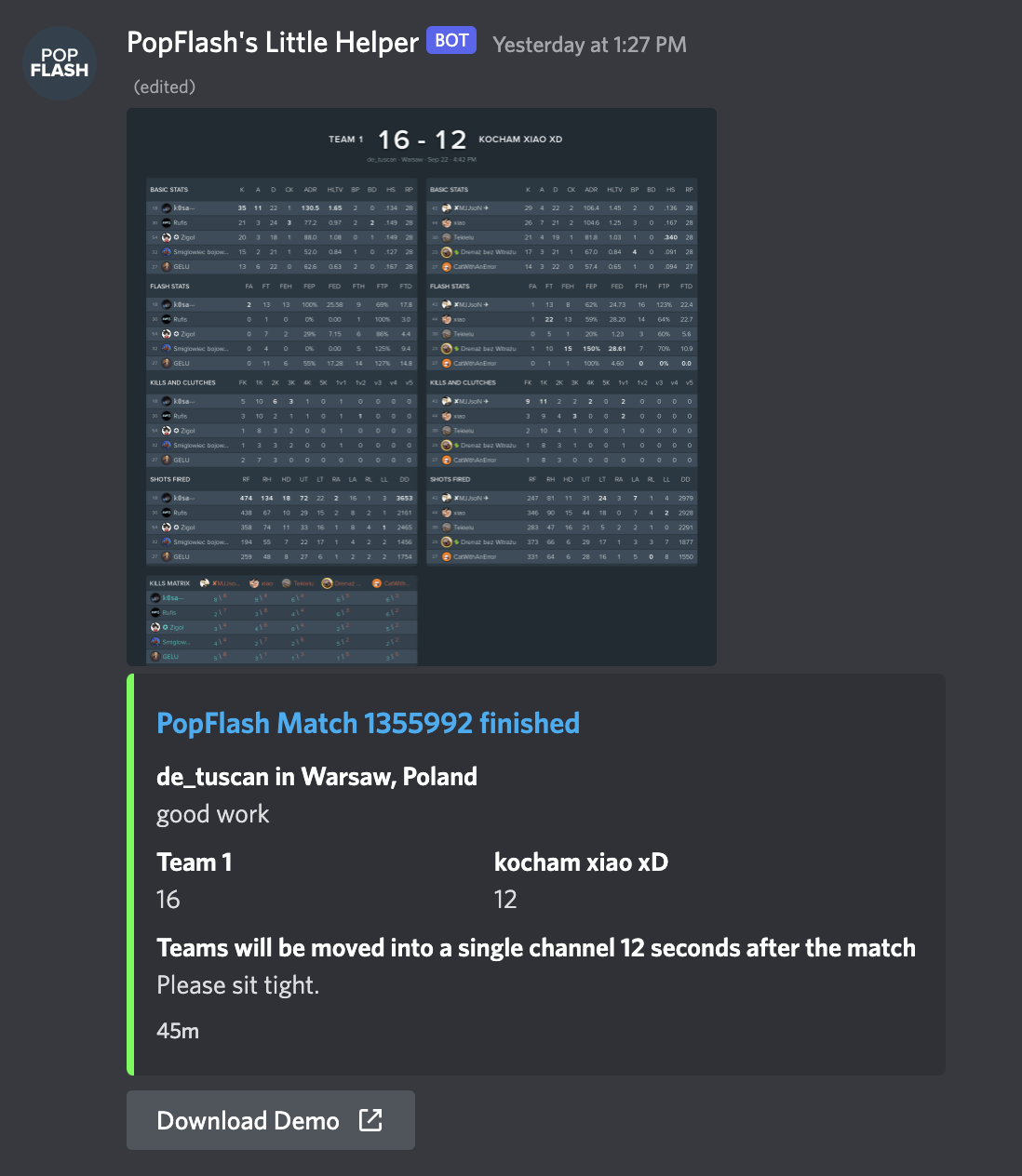 This integration is very flexible. If you have more ideas, please let me know.
Custom Map Pools
Now you can design your own custom map pool for vetos/bans. You can select any collection of maps to veto, not just Active Duty or Reserve. Try it out below.
Veto/Ban Active Duty Maps
click above right now to create your own custom map veto
Rich Captain/Team Picking
When picking teams, you can now see player stats for the last 25 matches. Please don't just pick the highest ADR.
Coaching slots
Trying to run team matches? Bring your coach along with you in the server, you probably need them.
Find a scrim or ringer
Find teams to challenge directly from your scrim page, or if you're missing a player in your 10 man, look for a ringer to join the match. In your scrim just tap "public" or "invite only" to open your scrim up for joining/challenges.
Profile Crosshairs
Anyone who plays on PopFlash will get their crosshair automatically added to their profile. Visit your friends' profiles and snag their crosshair codes.
See Mine
Open API
I will be rolling out an open API over the next few weeks – access your PopFlash match data and build cool things on top of it. No authentication needed, simple requests. Documentation for the API will be coming out shortly. In the meantime, if you want access, please reach out to me (@switz) on our Discord.
That's it
I mean there's more, but you'll figure it out.
Thank you to everyone who beta tested the platform leading up to now. Thank you to @hoyden who collaborated with me on the product, ux, and design. Thank you to everyone who has supported PopFlash. I'm literally just one guy and to get to work on this every day is a pleasure.
The idea that you all spend your parents' hard earned cash to support what is going on here is humbling.
Because of this, I don't have to shove gambling ads in your face, or sell your personal data. Let's not lose sight of how rare this is in esports: you give me money, I give you PopFlash. End of transaction.
I'm excited to continue building on top of this weird platform and providing you with some cool experiences along the way.
Stop by and say hi in our Discord... or don't. Til' next time.
- Daniel Saewitz (@switz)